Branded gaming is different.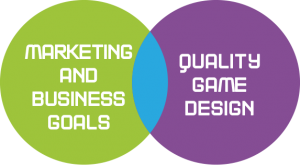 The focus of branded games is to make high quality games that integrate the brand messaging directly into the core gameplay. By merging marketing and business goals with quality game design, branded games can attract and engage consumers, and entice them to come back over and over again.

Put simply: the more fun a game is, the more time a player is willing to put into the game and the more likely they are to share it or invite others.

People are playing high-quality games across smartphones, tablets, social networks, websites, computers and gaming consoles every single day. The cost to produce these games is lower than ever, and brands now have the opportunity to get into this high growth area and interact with their customer base on an entirely new level.

Plus, high-quality games have the ability to put metrics on customer attention and loyalty. Developers can now track data – such as how often a game is played, the length of time a game is played, the frequency of play, and which portion of the game is played most often – and can also integrate with social network profiles to give a complete picture of the audience base. Not only can marketers use this data in other projects, but the games can then be continuously tweaked to increase these metrics, add new features, or promote new content.

Build a captive audience, analyze their interactions, deliver core messages,
and influence your customer base with branded games.